Int. Cadet Worlds in the Netherlands
by
Congratulations to Peter Allen and Oliver Grieve for achieving an impressive 3rd place in the International Cadet Promotional World Championships. The event came to an end last Friday local time in Bruinisse, the Netherlands.
---
18 August (The final report from Peter Allen):
Heading over to Bruinisse, in the Netherlands to compete in the promotionals, I was more excited than nervous, as I knew that Ollie and I had lots of training under our belts and that we were well prepared for the event. I was hoping that we could achieve a top 20 finish, but as with any regatta, and especially an international regatta, it is hard to know how the competition and the conditions will play out.
The invitational race did not start as planned. I was flagged by the jury for a double pump of my main during final manoeuvres at the start and needed to go back and do turns, which meant we started dead last in the fleet. Despite this, Ollie and I worked our way through the fleet of 55 boats to end up in 10th. This was a great result as it showed us what we could achieve when we were focussed and determined to chase down the fleet.
The next few days were great for us, and we ended the days in either first or second overall. Unfortunately on day 4, Ollie was unwell, which meant that he needed to go to shore. Fortunately for our campaign, one of the other skipper's sister, Alicia Gaffney was able to jump into the boat, meaning that we still had some competitive results to keep us in the running for a top 3 finish. Thankfully Ollie was feeling a lot better for the last day, and we were able to sail together. Whilst not our best day, were able to finish up in third overall.
It was a tough regatta, with variable conditions and challenges both on and off the water. Ollie and I worked through these, and together were able to achieve a result which we can be very proud of. Whilst the third placing was great, perhaps a bigger highlight of the trip was to sail in a different country against excellent sailors from all around the world and make some wonderful new friends. It was a fabulous experience and one that I will always treasure.
There are lots of people I would like to thank, but firstly I would like to thank Ollie for being a great crew and for putting in a great effort both during the preparation and training ahead of Promos, and also in Bruinisse. You did a great job, and I would not have been able to achieve what I did without you. Thanks also to Ollie's parents Bec and Ryan for supporting Ollie through the hours of training and to go to the Promos. I think both Ollie and I have grown a lot as a result of this trip. A very big thank you to our coach, Tony Bull. Tony is an all-round great guy, and helped us enormously with numerous hours of training in the run up to the trip, and on-going support at the regatta. I feel very fortunate to have had the help and support of someone like Bully. A big thank to Mum and Damian – you have run me around and been supportive throughout my time in sailing. Whilst not always obvious, I am very appreciative of all that you do.
Thanks to Royals for your support of Ollie and me, it is very much appreciated. This extends to our regular coach at Royals, Liam Robinson, all of the people who help out each week on water so we can sail, the Mums who help out in the canteen and the club which provides the facilities for us to sail.
Peter Allen
---
11 August:
The Royals International Cadet team of Spitfire (Peter Allen and Oliver Grieve) are making us proud in Bruinisse, the Netherlands, currently leading the fleet of 55 boats by a solid 10 points after 8 races in the international promotional event.
In the World Championship event Australia currently has two boats in the top 10.
The competition will finish up today, (local time in Bruinisse) so keep an eye on social media and e-news next week for the final results.
Best of luck to Peter, Ollie and the Australian team for the final day of racing.
Australian team coach Tony Bull is providing updates on both events via his daily blogs on Facebook (the outcome of race 6 discussed in blog #7 is worth a read). You can also follow the event and see the full provisional results on the regatta website.
---
3 August:
The Australian International Cadet team (including the Royals team Spitfire) arrived in Bruinisse, the Netherlands on last Friday for the World Championships, took delivery of their chartered cadets and have spent the last few days setting up the boats and taking them out on the water. Variable conditions ranging from very light winds to up to 30 knots have enabled the boats to be given a reasonable test run. They were honoured to receive a visit from Dr Brett Mason, the Australian ambassador to the Netherlands on Wednesday, and took him out on a rib to see the team in action. As an ex-Laser sailor, Brett was very impressed with the athleticism and stamina of the kids. Yesterday (Thursday) was measurement, with the opening ceremony to take place today (Friday). There is a practice race on Saturday, with the official competition commencing on Sunday. Watch this space next week for an update and for those interested in following the event, the official website is cadet2017.com. You can also follow the updates from Tony Bull, the team coach on Facebook. We wish Peter, Ollie and the rest of the Australian team the best of luck for the regatta.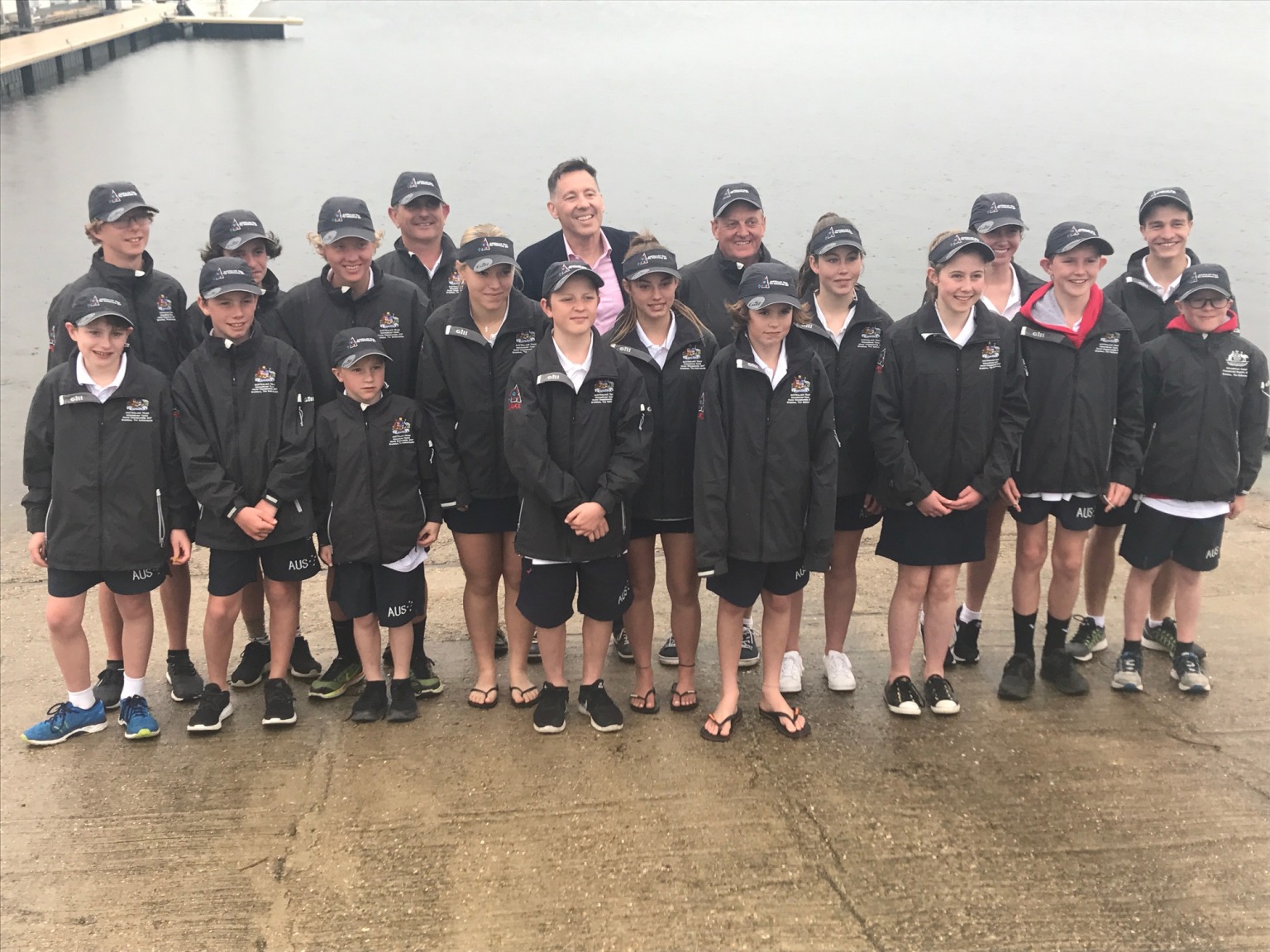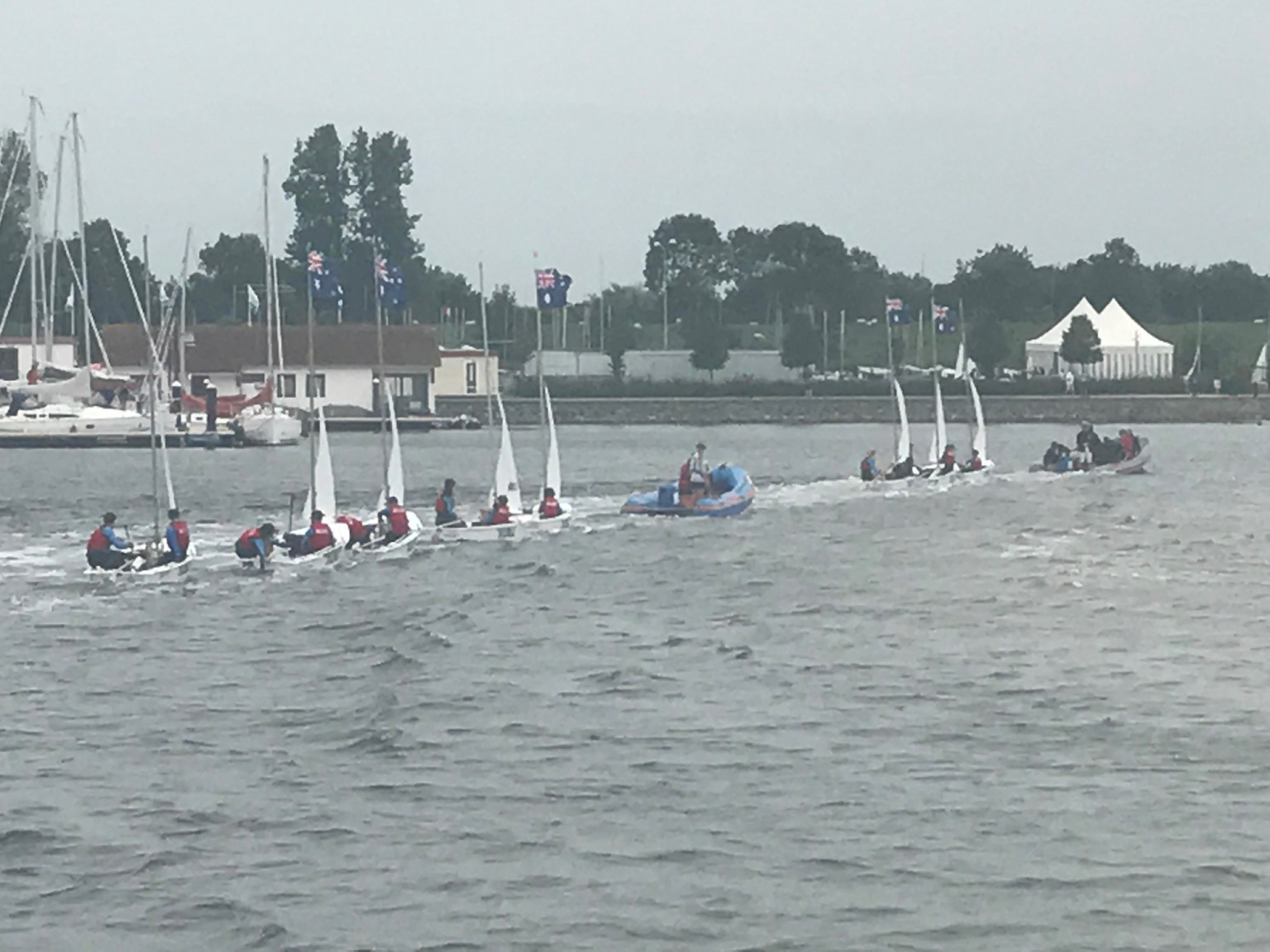 Last Modified on 17/08/2017 21:45