How do I go sailing?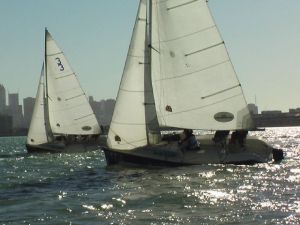 The Royal Yacht Club of Victoria welcomes new sailors and new members. People of all backgrounds, ages and abilities are encouraged to discover sailing - no prior experience is necessary. If you are interestested in trying sailing you can contact us for more information about all our programs and sailing opportunities that are available at the club.
Royals Training Centre
To try sailing for the first time we can arrange a Discover Sailing experience which are ideal for people who are new to sailing. In the three hour session you will recieve a briefing on safety and sailing before we head out on the water for a thrilling and enjoyable sail in a fun and safe environment. Our fully qualified Yachting Australia instructors will be at hand at all times. Upon returning to the shore you will be invited back to our clubrooms for a complimentary drink while we debrief from the days sailing. Partners, friends, families and work colleagues can all take part together for a great day out. Bookings can be made as a group, or individually if you would like to meet others who are new to sailing. Discover Sailing days are also held by the club on a regular basis which are free for members of the public.
Sailing courses are also available for all ages if you would like to learn some new skills or sharpen some old ones. Sailing classes are available in Keelboats (large boats) or small boats to cater for all interests. Regular classes are also held for our Junior Learn to Sail Program, Tackers. Like the Discover Sailing experiences there are programs offered for both groups and individuals.
For more information or to book, you can contact the club by calling (03) 9397 1277 or emailing us at rycv@rycv.asn.au. You can also subscribe to our newsletter or like us on Facebook for frequent updates.
Crew Wanted
If you are a more experienced sailor and/or you would like to get involved in club racing, you can look at our 'Crew Wanted' messageboard. Contact the club by emailing us at rycv@rycv.asn.au to take advantage of one of these sailing opportunities.
Membership
Becoming a member at the Royal Yacht Club of Victoria not only welcomes you to become apart of the close sailing community, it also grants you access to a number of great benefits at the club. Day memberships are available for casual sailors, but if you are a regular visitor at the club you are encouraged to consider signing up for one of our manymembership options. Take a look at our membership page for more information on how you can join.